John Jenkins & Pippa Murdie – 'Tuebrook' Album Launch – Live at Prohibition Recording Studios
Date and Time:
July 28, 2023 7:00 pm - 11:00 pm
Events Location:
Prohibition Recording Studios, 24a Arrad Street, Liverpool, Merseyside, L7 7BP, United Kingdom
Sorry, this event is expired and no longer available.
About The Events
Fretsore Records recording artist John Jenkins is carving out a path for himself as a renowned singer/songwriter on the UK folk, country, and Americana scene. He is a critically acclaimed award-winning recording artist and staple of the Merseyside singer-songwriter scene.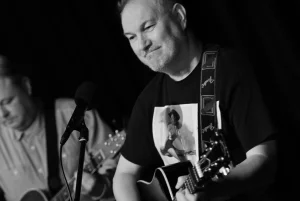 His Songwriting has been critically acclaimed worldwide.
He plays solo or with his band "John Jenkins and The James Street Band."
His most recent UK tour was performed with Pippa Murdie on Mandolin, guitar and backing vocals.
From his early years in Liverpool bands The Persuaders and Come in Tokio (both of which made waves in the 80s with support on BBC Radio 1) to his recent success in the root's scene, Jenkins has developed an engaged audience of fans in the rock, country, and Americana formats. He has established himself as a live touring act, both solo and collaboratively and has supported Chris Difford (Squeeze), Jarrod Dickenson, Robert Vincent (AMAUK Artist of the year), Steve Tilson recent years.
Jenkins latest body of work, 2021's 'If You Can't Forgive You Can't Love' gained critical acclaim in the likes of RnR, Folk Radio UK and Americana UK with support from Ralph McLean (BBC Radio Ulster).
The album was so-produced by John Jenkins and Jon Lawton (Sami Yusuf, Two Black Sheep) and mastered by Pete Maher (The Rolling Stones, U2, Patti Smith). It is available on CD and Digital via Fretsore Records and features the singles "Desert Hearts," "Kathleen" and "Strangers on A Train."
Supporting John will be Joe Doonan:
Joe Doonan is a Liverpool based singer-songwriter, originally hailing from Leeds, West Yorkshire.
Drawing inspiration from the likes of Foy Vance, Passenger and Springsteen, Joe's songs tell real-life stories of hope, loss and love.
Under the current mentorship of a number of multi-platinum selling and Emmy Award winning song-writers from across the globe, Joe is working tirelessly towards releasing his first solo EP which promises to be his best work to date.
Some of his mentors include the likes of: Paddy Byrne (Tom Grennon, Paoloma Faith), Paul Statham (Dido, Matt Cardle, Simple minds), Shelly Poole (Jack Savoretti, Gary Barlow, Janet Jackson) and Rob Wells (Adam Lambert, Ariana Grande).
Joe previously released his singles 'Dancing In Paradise' and 'Beginning At Every End' (working with Producer Dom Bennison and Pidgeon Detectives Producer Andy Hawkins).
He has recently returned to the studio and has recorded a number of singles, due for release in 2023.
---
Consider this your chance, as a fan, to come hear the artist you love perform in an intimate, inner-city studio environment and also discover new, similar and fantastic musicians.
This is a unique gig experience that puts you at the heart of the artist's performance.
A large proportion of the revenue raised from ticket sales is returned to the artists as payment for their talent and musicianship.
Prohibition Recording Studios prides itself in having musical integrity on behalf of ourselves and the artists.
Tickets are allocated on a first-come, first-serve basis.
No under 18s allowed. Doors open at 19:00 and the show starts at 19:30.
We politely ask all guests to arrive before the start time to ensure performances are not disturbed.
Main Act: John Jenkins & Pippa Murdie
Support Act: Joe Doonan
More Info
Ticket sales end at 4pm on the day of the event – No tickets will be available on the door unless specified by Prohibition Recording Studios. 
Sold Out? Drop us an email on info@prohibitionrecordingstudios.co.uk with the subject title 'SIGN ME UP!' and we'll add you to our exclusive events newsletter so you don't miss out next time.

---
Note: There is limited seating at the venue – to avoid disappointment, please arrive for the event start time, which coincides with the doors opening. There are steps on entry to the building, so we are very sorry, but unfortunately due to restrictions of the building management we cannot offer a ramp for wheelchair users at this time. There may be a small card processing fee, unfortunately Prohibition Recording Studios cannot control this. We absorb all other fees where possible.